Relocation & renovation
Ohtama also offers a range of services for the renovation of magnetically shielded room and cases and relocation to other facilities etc.
From demolition to relocation and reassembly, general maintenance to repair a faulty or damaged door, expansion work in line with changes in application or equipment upgrades etc. or just performance improvements, Ohtama offers a full range of solutions.
Relocation & renovation services
1.Repairs & maintenance

We offer a full range of repair and maintenance services, from the repair/maintenance of a faulty or damaged door, no job is too big or too small.

2.Expansion work

We also provide expansion services when you want to increase the size of your shielded room or case in line with equipment upgrades etc.

3.Performance improvement

Ohtama can help improve the performance of existing shielded room and cases through the application of Permalloy or installation of a magnetic field canceller.

4.Transforming an existing room into a shielded room (modification)

When you want to shield the magnetic field emitting from a power room or other external source, it can be alleviated by applying Permalloy on the ceiling, walls and floor.

5.Relocation

Ohtama provides a comprehensive range of relocation services from demolition, relocation to reassembly when you want to relocate an existing shielded room or case to another area.
Relocation & renovation process
Relocation process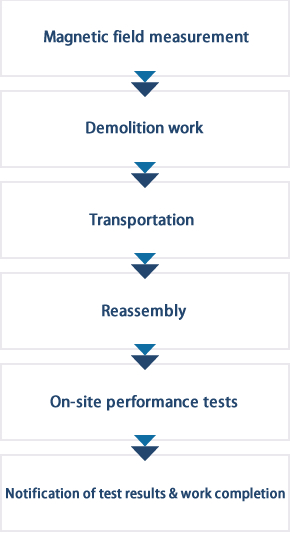 Renovation process